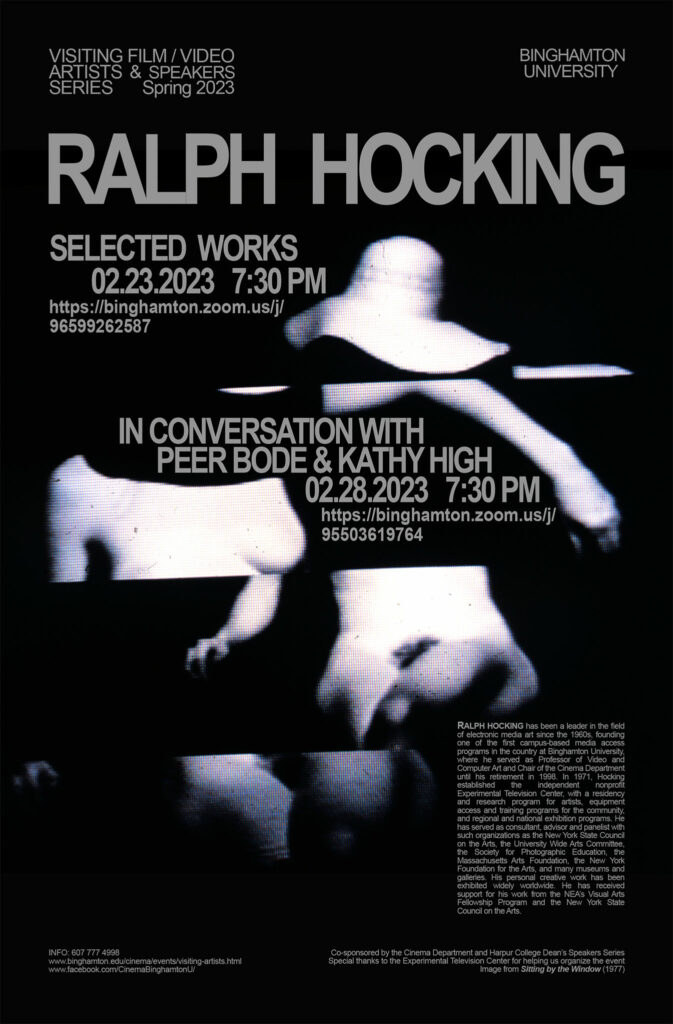 THURSDAY FEBRUARY 23, 7:30PM
Ralph Hocking: Selected Works
TUESDAY FEBRUARY 28, 7:30PM
Ralph Hocking: In Conversation with Peer Bode and Kathy High
Replay: YouTube
Ralph Hocking has been a leader in the field of electronic media art since the 1960s, founding one of the first campus-based media access programs in the country at Binghamton University, where he served as Professor of Video and Computer Art and Chair of the Cinema Department until his retirement in 1998.
In 1971, Hocking established the independent nonprofit Experimental Television Center, with a residency and research program for artists, equipment access and training programs for the community, and regional and national exhibition programs.
He has served as consultant, advisor and panelist with such organizations as the New York State Council on the Arts, the University Wide Arts Committee, the Society for Photographic Education, the Massachusetts Arts Foundation, the New York Foundation for the Arts, and many museums and galleries. His personal creative work has been exhibited widely worldwide. He has received support for his work from the NEA's Visual Arts Fellowship Program and the New York State Council on the Arts.
---
Peer Bode created an extensive body of work that investigates electronic media events, active perception systems and culture in a career spanning over 4 decades as a video artist. A graduate of Binghamton University's Cinema Department, Bode studied with Ken Jacobs, Larry Gottheim, Nicholas Ray and Peter Kubelka, and later with Woody and Steina Vasulka, Paul Sharits, Tony Conrad and Hollis Frampton at SUNY Buffalo's Media Study Program. Bode worked at the Experimental Television Center (ETC) which his lifelong mentor and friend Ralph Hocking established in Binghamton in 1970. At ETC, Bode made his seminal early works while assisting and collaborating with the video artist and engineer David Jones, whose "Jones Frame Buffer" became a signature processor within Bode's oeuvre. His work has been widely exhibited nationally and internationally at venues including MoMA, Anthology Film Archives, the Whitney Biennial, the European Media Art Festival (Germany), Impakt Film and Video Art Festival (the Netherlands), Viper Festival (Switzerland), among many others. A key figure of the Owego and Alfred schools of video arts, Bode headed the Video Arts Program at the School of Art and Design, NYSCC at Alfred University, where he co-founded the Institute for Electronic Arts (IEA).
Kathy High is an interdisciplinary artist working with technology, art and biology. She collaborates with scientists and artists, and considers living systems, empathy, animal sentience, and the social, political and ethical dilemmas of biotechnology and surrounding industries. She has received awards including the Guggenheim Foundation, Rockefeller Foundation, and National Endowment for Arts. Her art works have been shown at documenta 13 (Germany), Guggenheim Museum, Museum of Modern Art, Lincoln Center and Exit Art (NYC), UCLA (Los Angeles), Science Gallery (Dublin), NGBK (Berlin), Festival Transitio_MX (Mexico), MASS MoCA (North Adams), Para-site Gellery (Hong Kong) and Esther Klein Gellery, Science Center (Philadelphia). High is Professor in Arts, and a lab at the Center for Biotechnology and Interdisciplinary Studies, Rensselaer Polytechnic Institute, Troy.
---
Sponsored by the Binghamton University Cinema Department & Harpur College Dean's Speakers Series.